The story of Atalanta has bothered me for a long time, probably because it rings so true to form. The short version is the Atalanta is strong and fast and capable and independent, fierce and happy. Her father arranges races whereby Atalanta agrees to marry the one who can best her in the competition, any who fail are killed. Eventually, Melanion comes along, and aided by Aphrodite and her bag of tricks, throws out golden apples which Atalanta stops to retrieve, resulting in a win by Melanion. Simply irrestible.
Comment on or Share this Article →
I'm finishing up the details of hanging, mounting, documenting the pieces for the show that opens May 4th at the TCC Visual Arts Center in Olde Towne Portsmouth. I will be delivering them on Tuesday, the 24th. Time to let it go, see if the work flies on it's own. It's a difficult thing to stop working on things, but at a certain point it just has to be, tho' I do tell myself that if it comes back to me I can still play with them.
The logistics of this particular exhibit are new to me- I've not ever delivered a piece that was bigger than me, let alone a dozen or so that fell into that category. Size does matter, it turns out, and that equates to having to rent a 10 foot U-Haul to convey things to their destination point. Another thing- If one lives in a house where most of the ceilings only measure 8 feet, turning them as one frames requires all sorts of gyrations- these things take up so much space! In any case- right now it looks like an art factory exploded around here- there are pieces on every flat surface of size and leaning against walls, pianos, bookshelves- you name it. And if not a painting, then it's a cordless drill, ora box of d-rings, or a spool of braided wire. I would take a picture to illustrate but it's all vaguely embarassing. Anyhoo- I'll try to add to the blog and clean up the site in the next couple of weeks- right after cleaning the house and garden, but for now here's a peek at the wings of the altar installation: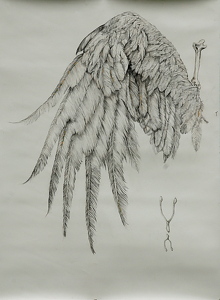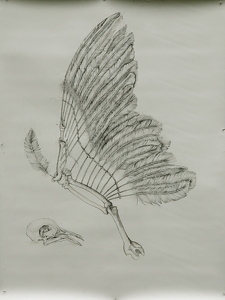 Comment on or Share this Article →