What a summer it was. One thing after another, but no rhythm, just alternate stumbling and dashing to keep the balls, crystal and otherwise, in the air. Not conducive to work in the studio, but now that the fall semester is upon me, that all is changing. The "Fall Semester" is a literal, not figurative designator- I'm back in school, planning on finally bringing home that MFA in Visual Studies. One seminar, and two studios this go round, both studios focused on painting, and that means a lot of time in front of a lot of easels. At this juncture wet paint rings the room, I work on one until it reaches a good plateau, move the next one into the best light, pull another palette, make sure the appropriate brushes are clean and go from there.
The focus of one of the studios is about seeing color- my premise being that in the world that we find our selves, super saturated color is so ubiquitous that one can't see it any longer. Originally I'd intended to derive colors from naturally occuring objects and play them off white as well as develop a color field, and I tried that but it felt unnatural, too academic, and that's not why I'm painting. So I took a jog to the left and found myself thinking that one could, that is to say, I could, explore color by using a people palette. So off I went, looking for red people and blue people and green people, etc. I was very lucky to find two of them (the purple and blue person) in my seminar, and the red person in the neighborhood, so I was off and running.
I decided to use the Senso clear-primed linen because of its neutrality, and paint directly to it (something difficult for me, but a muscle I really need to develop) underpainting in one fast session in the designated color,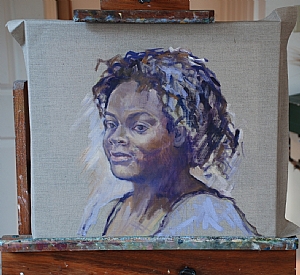 and then correcting the drawing in the next session, then adding a layer in the third
and will head for home in the next. After that, just little tweaks. None are done yet, but three are on canvas, and with any luck at all, I'll post them shortly.
The other studio- loosely defined as "the sky is falling" for working purposes are not as fast in their execution, but that's no one's fault except my own; some day I will learn to leave the damn leaves alone! Here are progress shots on two of the four I have in mind. The first is "i dreamt i flew"
and the next "i shot an arrow"
which began with a major misstep. False starts seem to be a major part of this process.
Toodles for now- poodles are waiting, and then the easel.
Comment on or Share this Article →