The weather hear in southeastern Virginia has been wet, grey, and blustery, slowing down easel work in a big way. The up side to this is that it meant that it has been the perfect time to work on the little still lifes that I set up in the studio under controlled light. Here's the third in the "i found this(have you seen this before?)" series working with bits and pieces that caught my eye and ended up in my pocket. I knew that somehow they all fit together, but somewhere along the line realized tht if I didn't do something with them they were just so much flotsam and jetsam (read: dustcatchers) on my shelves and in my drawers. Putting the puzzle together is turning into something a lot more fun, and with a lot more layers than anticipated; I can hardly wait to start the next one.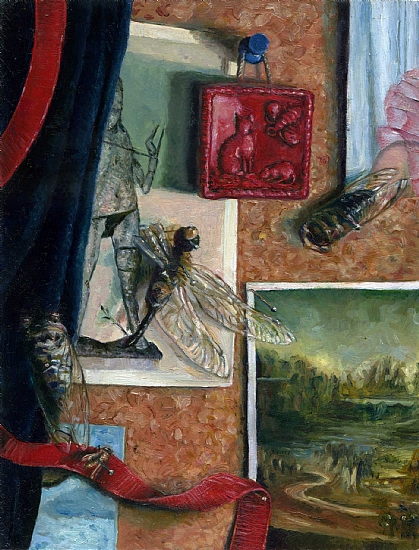 Comment on or Share this Article →
I used to run past a small pond in Germany inhabited by a pair of swans, and one winter day when the pond was semi-frozen and the snow coming down, I watched them breaking the ice with their massive chests, causing a little water vapor to steam up as they made their way. I think I ran around the pond an extra time or two, I can't recall exactly, but I was fascinated. That's when I thought first to paint a Leda.
So I've sketched it in all sorts of permutations, trying to just figure out the logistics- and there sure are some logistics- and this is what I've finally, after sketching on and off on the subject for years, figured out for the swan. This little thumbnail is the first painting of it- just a little color study- but I think it took care of itself without much ado.
Now for the girl.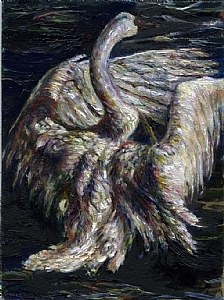 Comment on or Share this Article →
I know, I know, I said I wasn't going to post another progress report on Megan, just the finished image, but I couldn't resist one detail shot. Time to rest on her now, and come back to finish in a week or two.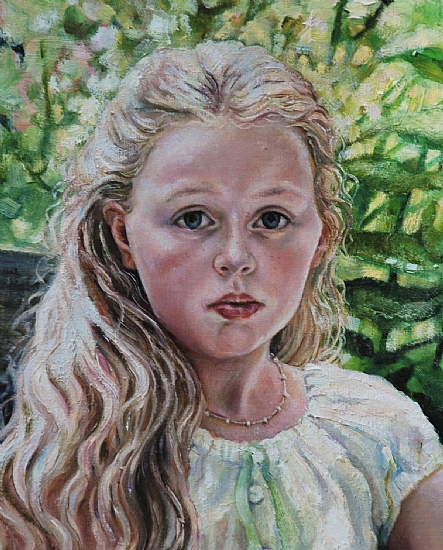 Comment on or Share this Article →