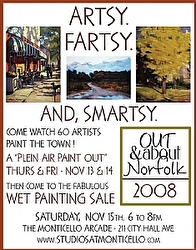 Painting the town!
   Tomorrow marks the first day of the 2nd annual Out & About Norfolk Plein Air Paint-Out, organized by artist Karen Kinser, of the Studios at Monticello, in the Monticello Arcade in downtown Norfolk, Virginia.  (www.studiosatmonticello.com).  Karen has managed to bring together 65 artists from all around the region, a respected juror, a substantial and generous group of sponsors for awards, and another group of businesses and individuals who are kindly doing their part for art by hosting "Adopt an Artist" spots for participating painters to paint from.  On top of all of that, Karen is also hanging all of the work produced Thursday and Friday in the gallery at Monticello, and hosting a "Wet Canvas" party/show/sale on Saturday night from 6-8.  whew.
  Now- all of this is a brand-new venture for me.  I've never painted in front of anyone except a model before, but I feel strongly that it's important for me to explore new avenues, and more than that, bring painting out of the studio so that the process, the actual work, can be seen.  ( Given the fact that we have a 90% chance of rain over the next two days, the fact that art is not magic ought to truly be in evidence.) So- if any of you veteran Plein Air painters, have any words of wisdom for a newbie on her first outing, I'd greatly appreciate hearing from you. Finally, for any of you who happen to be out and about in Norfolk (rain or not!) check out Karen's website for a list of a lot of the places where artists will be painting the town, or consider giving it a go yourselves next year.
   Wish me luck, and minimal precipitation!
p.s.  I'll be painting at the Hermitage on Thursday, and at the Botanical Gardens on Friday.
Comment on or Share this Article →