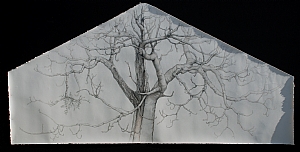 I delivered "branching" to its new home yesterday and helped determine where and how it would hang. It's a large drawing, just about six feet long- my wingspan, as it were. It ended up in a spot that was remarkably similar to where I would have hung it had it come home with me- its limbs fingering out unto a pale blue wall as if it was planned for the spot. The morning light hit it just right; it looked ready to embrace the world. Made me a little misty.
The new members of the smallcanvas studio web of allies had chosen the piece because it spoke to them and as they articulated to me the reasons why they'd decided to bring it into their lives I thought about how extraordinarily fitting it was, and how it paralleled my impulse to make the piece but was still quite their own. I think about that often when in the studio- my reasons for making a piece are one thing when it is under my hand, but when I've done my job, then the piece's own life begins, with a purpose I can only guess at, and that in a nutshell is what determines its, not my, success.
Just a little background on the drawing before I go. It's about life size, the subject being a small and well groomed fig tree that I pass many time in any given week either on foot with the poodles, or when I bike by. Fruit trees are very much the dogs of the arborial realm, I've decided- tended to and shaped to enhance their relationship with humans more than any other trees. This one is particularly well loved, despite evidence of some past injury to its core. In life, I could just about span its reach. When I began the drawing last January, I took a deep breath, and I continued to breath deeply for a good 90-100 hours until I declared it done. Originally I'd intended to leave it barren and bereft, but at the last minute decided it needed a little magic, and in a nod to my northern European roots, I festooned it with a wee bit of mistletoe, for the protection to life that it affords.
Then I was done, and it was ready for its own adventures, first as the pediment of the "innagaddavida" altar installation at the Visual Arts Center, in Portsmouth; then off to the Peninsula Fine Art Center Biennial in Newport News, where it took an award of excellence; and then finally to 111 Art in Norfolk so that I could defend my thesis, and where it took pride of place, looking out through the front window, and reaching out as it were, to passerby, until one took it home to a wall like a blue sky.
Comment on or Share this Article →